Deck Building in Stratford, Bridgeport, and Nearby
We're the local expert contractor for custom deck building in Connecticut
No matter what size, design style, or layout you're looking for in your new deck, our experts can help.
If you're looking to install a new deck on your home, getting the right design and installation process is essential. The local deck installation experts at Burr Roofing, Siding, & Windows are here to help you with every aspect of the deck building process, from design to finishing touches. We provide custom deck solutions that will fit your home perfectly and give you the outdoor space you've always wanted.
Give us a call today at 1-844-665-0383 or click below to learn more about our deck installation services and how we can provide the perfect deck for your home. We offer free cost estimates on all our services in Stratford, Bridgeport, Fairfield and the surrounding areas.
Our deck building & installation process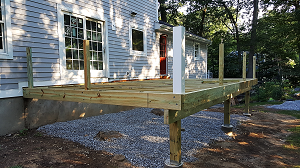 We'll build you the right deck to fit your home's needs.
Design: When you decide to install your deck, the first step is to plan all details of the design. This includes size, shape, entrances to the home, staircases, railings, materials, and color. Additional factors that have to be considered in some situations include pools, cooking areas, handicap accessibility and any other unique features you may want. We will help you plan all the details and recommend the best layout for the type of space you want for your yard.
Construction: Once we have a design in place, the deck building process begins. This includes placing footers, framing the deck, creating the entry to the home, and installing the deck surface and railings. We're always careful to cause as little disruption to your yard as well. We'll ensure that everything meets local building codes and provide you with a safe, stable structure that looks great and gives your family an outdoor space to enjoy for years to come.
FInishing Touches: Once your deck is built, we'll help you with any of the details you need. This includes paint and stain, custom railings, spaces for seating or cooking, and other unique design aspects. When this step is completed, you'll have the perfect deck for your home!
Get a free deck installation cost estimate from your exceptional local contractor today!
If you're interested in adding a beautiful new deck to your home, Burr Roofing, Siding, & Windows is here to help. We're the local experts for complete deck services, and we'll help you get the perfect solution for your home that best fits your vision. Call us today at 1-844-665-0383 or contact us online to get started with a free cost estimate! We offer all our deck design and installation services in Stratford, Bridgeport, Fairfield, Milford, New Haven, Norwalk, West Haven, Shelton , Trumbull, Stamford and throughout the surrounding areas.
Looking for a price? Get a no cost, no obligation free estimate.