Gutter & Downspout Installation in Fairfield, Bridgeport, and Nearby
Good water management. A well-designed, professionally installed gutter and downspout system provides protection against erosion, plant damage and basement flooding.
Gutters installed by an expert contractor help protect your CT home from water damage
Gutters and downspouts are important for the health and well-being of your house. By directing roof runoff away from your foundation walls, this drainage system is your first line of defense against basement or crawl space flooding.
Our systems are designed to work as a complete protection and beautification package for your home. The wonders of nature are truly amazing... but they can also be hard on your home. Eaves, overhangs, porch ceilings, and fascia - often the least noticed areas of your home's exterior - can blister, peel or rot. Suddenly you're faced with a costly maintenance problem that can affect your home's value and appearance.
Call the gutter experts at Burr Roofing, Siding, & Windows to get a free cost estimate on the gutter services your home needs. We offer gutter repair and replacement in Bridgeport, Stratford, Fairfield, and throughout the surrounding areas.
Gutters offer important protections
Many homeowners do not realize the importance of installing new gutter systems. By collecting and carrying water safely away from the home, properly installed gutters protect the home in many ways:
Foundation problems - Problem gutters can dump gallons of water directly onto the ground next to the foundation of a house. This water can cause or complicate existing foundation settlement problems.
Landscape washout - Few things are more frustrating than watching the beautiful landscaping that you spent hundreds or thousands of dollars installing, get washed away because of poor rain drainage.
Undermined driveways, patios, and walkways - Excess water draining or accumulating near the house can erode the soil underneath driveways, patios, and walkways. As this underlying soil is washed away, so is the support provided for the driveway, patio, or walkway. The end result can range anywhere from settling or cracking to a complete collapse.
Damaged fascia, soffit, or outside wall - Non-existent, leaky, or poorly installed gutters can damage a house's structural integrity by allowing water to penetrate and damage the fascia, soffit, or the actual framing of the house - causing thousands of dollars in damage.
Termite colonies - Because termites need water to reproduce and thrive, gutters that dump excess water near the house encourage termite infestation.
Things to consider when choosing gutters & downspouts for your CT home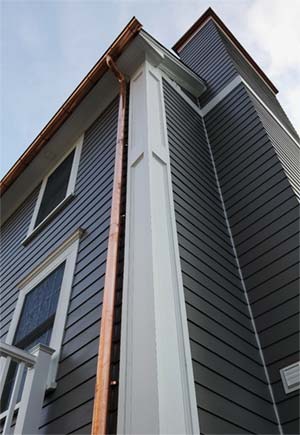 Custom made. An advantage of aluminum gutters is that they can be made to an exact size to fit your house. The gutter-making machine is right on the truck, ready to transform aluminum sheet material into a finished gutter profile.
Because older gutters & downspouts can be difficult and costly to repair, many homeowners elect to replace old with new. Gutter and downspout choices are more varied today than ever before. The major decisions are explained below:
Materials: Historically, gutters have been made from many different materials, including wood, steel, copper and seamless aluminum gutters. Aluminum gutters are most popular today because of their affordability, durability and color variety. However, some historic homes may deserve steel, copper gutters or even wood gutters to maintain their authentic appearance.
Color: If you want gutters in a color that matches your house, aluminum is your best choice. Most gutter specialists have access to aluminum gutter stock that can be ordered with factory-applied finishes of different hues.
Style: Different gutter "profiles" are available. Aluminum gutters are often formed in a "K" profile that includes a flat back section and a curved front. Half-round gutters can sometimes be found on older houses.
Size: K-style gutters come in 5-in. and 6-in. sizes. The larger size is usually specified when the roof area being drained is especially large and/or steep. An experienced gutter installer will be able to determine which size is best for your house.
Gutter guards: This popular gutter add-on prevents gutters from clogging and overflowing – a smart addition to any gutter installation.
Additional drainage options: Downspout extensions are sometimes necessary to carry roof runoff away from the house. Many of these simply extend out over the yard or garden, while others consist of buried pipe that drains to a dry well or daylight outlet.
We are a trusted gutter contractor serving Stratford, Fairfield, and nearby
Our gutter experts draw on their extensive knowledge and installation experience when evaluating your home. We can spot related problems such as damaged flashing or rotted fascia boards that require replacement or damaged flashing. In addition to gutter and downspout installation, we also offer gutter cleaning and install gutter guards to keep your gutter system performing like it should.
Contact the roofing and gutter experts at Burr Roofing, Siding, & Windows by calling 1-844-665-0383 or fill out the online form for a free cost inspection and estimate! We offer all our gutter services in Bridgeport, Stratford, Fairfield, Norwalk, New Haven, Milford, Shelton , Trumbull, Stamford, West Haven, and throughout the surrounding areas.
Looking for a price? Get a no cost, no obligation free estimate.