Siding Installation & Replacement Contractor in Connecticut
Quality products & expert installation in Stratford, Bridgeport, and nearby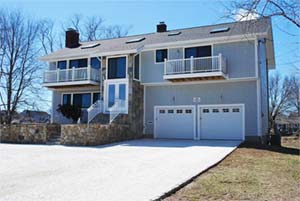 The right material, the right benefits. All of our siding materials are designed with a specific purpose in mind. We can help you choose the best option for maintenance, durability, cost and appearance.
Deciding what type of home siding is right for you is a bit like shopping for a new car. There are many options to choose from. You select the make and model you prefer based on your driving needs, i.e. performance, mileage, etc. The same is true when considering your siding options!
You will need to consider the style of your home and those in your neighborhood. What color will enhance the beauty of your home? Given the local climate, how long will the siding last? Is it difficult to maintain? And, of course, what options can you afford? Below is a library of information to help you learn more about the products available.
Burr Roofing, Siding, & Windows are your local experts for quality siding installation in Greater Fairfield, Litchfield, New Haven, and Middlesex Counties! We work with a variety of siding materials, and we can help you choose the best fit for your needs. Call us today for a free estimate in Bridgeport, Stratford, Fairfield and the nearby areas!
Siding Before and After Photo
High-quality siding options that combine the best in beauty & durability
At Burr Roofing, Siding, & Windows, we offer multiple siding materials including traditional and maintenance-free solutions that will increase the beauty and value of your home. We use the best siding products from leading manufacturers. Take a look below at the major benefits of the different siding materials that we offer. Our siding specialists can help you choose the best option for your home.
Vinyl Siding
Delivers durability & resistance to extreme weather
Gives the look of wood siding without the cost or maintenance
Won't split, peel or rot
Resistant to fading
Never needs to be painted, stained or scraped
Wide range of colors & textures to choose from
Fiber Cement Siding
Available in a wide range of colors & styles
Designed to resemble conventional siding materials like cedar shingles, wood & stucco
Resistant against fire, wind, termites & rot
Durability of material reduces maintenance costs
Can be primed & painted
Stone Veneer & Brick Veneer Siding
Provides a realistic look of traditional brick & stone
Low-maintenance siding option
Cost-effective alternative to real brick & stone
Brick veneer siding is durable & fireproof
Faster & easier to install than real stone & break
Cedar Siding
Provides a beautiful, unique, timeless look
Naturally water resistant
Provides resistance against decay & insects
Siding can be treated with stains & finishes
Cedar is an environmentally-friendly material
Factors to consider when updating your siding
There are several key things to be aware of if you're deciding whether or not to replace your siding. These factors include:
Type: The type of siding you have is of the utmost importance. We do not recommend painting vinyl because of its extreme level of contraction/expansion and its flexibility. Bumping up against it will bend the vinyl, which may cause the paint to crack. Vinyl also has a tendency to warp over time, which will affect paint adhesion. Aluminum and steel surfaces are easily paintable. We recommend painting if you do not like the color, the color has faded, the surface has chalked or there are sections on the house that have been replaced and do not match the color of the rest of the house.
Stucco and other masonry surfaces are also very paintable. We recommend painting if your stucco is stained and cannot be cleaned with a good powerwash. Wood and hardboard composites: These surfaces are also very paintable. Wood surfaces should be painted. These surfaces need to be protected from the elements in order for them to remain healthy.
Age: If your wood siding is very old and has multiple layers of paint on it, it may be better to re-side. Look at the back of a peeling paint chip. Is there a layer of wood grain evident on the back of the chip? Does your thumbnail easily indent the wood when you apply some pressure? If so, then it is probably time to re-side. Is your stucco crumbling? It is definitely time to re-side.
Condition: Has your stucco been painted and is peeling badly? The preparation during the first coat or two of paint was improper and either stripping all the layers of paint or re-siding is your only recourse. Is your wood rotted? Is your hardboard warping or buckling? Then it is definitely time to re-side.
Length of stay: This certainly is a key factor in your decision-making process. This is a judgment call that is completely dependent on the above three factors. Your realtor and/or your siding professional can help lead you down the correct path.
Cost-benefit analysis: Again, this is a judgment best left to you and/or your realtor. Weigh the cost of the project and compare it to the value it will add to your house (both in appreciation value and in the pleasure it will give you while living there).
Upgrade your Connecticut home's siding today!
If you're ready to improve your home's appearance and energy efficiency with new siding installation, call your local expert contractors at Burr Roofing, Siding, & Windows today! We will help you choose from a variety of siding options and give you a quality installation.
Call us today at 1-844-665-0383 or contact us online to get a free estimate on siding installation for your home. We offer all our siding services in Bridgeport, Stratford, Fairfield, New Haven, Milford, West Haven, Norwalk, Trumbull, Stamford, Shelton, and throughout the surrounding areas.