Replacement Door Installation Contractor in Stratford, Fairfield, & Nearby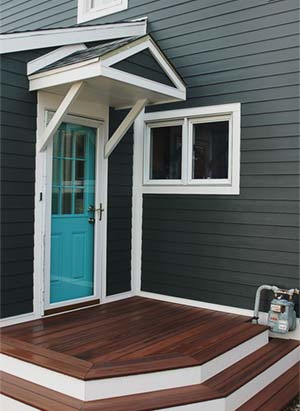 The right doors help improve your home's curb appeal and make a great first impression.
Safe, durable, energy-efficient exterior doors for your CT home
When it comes to your home's entry or patio doors, you want doors that provide security, create a welcoming entrance and will give you many years of trouble-free operation.
Burr Roofing, Siding, & Windows installs new exterior doors in styles and materials to best fit your needs. Our professionals will handle the entire process from start to finish – from helping you choose the right type of door to the actual installation.
We work with leading manufacturers to provide you with the highest quality products so that you will never have to worry about replacing your door again - unless it's by choice.
Call us today at 1-844-665-0383 or fill out our online form for a free no-obligation estimate. If you live in Stratford, Bridgeport, Fairfield or nearby areas in Connecticut, let us help with your home remodeling project!
Before and After
Before

After

When Burr Roofing, Siding, & Windows first arrived to this home in Weston, CT there was excessive damage to the existing siding. Woodpeckers had done a great deal of damage to the cedar exterior and the homeowners were finally fed up. It was clear they needed a low maintenance, pest resistant exterior. When it came time to remodel the front door, our skilled carpenter created this beautiful door surround using low maintenance PVC. Now, this home will stay beautiful for years to come! Bye bye woodpeckers!

Before

After

This homeowner wanted their door surround to match the newly wrapped porch columns on the side of the home. Our carpentry team got to work fabricating this custom door surround with PVC, making a beautiful statement piece for the entryway.

Before

After

When Burr met with this Stratford homeowner, it was obvious he already loved the look of this home. However, he wanted a low maintenance exterior and James Hardie was the perfect solution! In addition to installation Hardie individual shingle, our carpentry crew mimicked the old door surround, building a brand-new casement from PVC. The homeowner was able to keep the look of the home he already loved! Now, he won't have to worry about frequent maintenance.

Before

After

Are you living in a historic home? If so, it may be difficult to find a contractor who will renovate while keeping the integrity of the original structure. At Burr, our carpentry crew knows exactly what they're doing! This historic home in Oxford, CT was in major need of updates. The existing wood door surround was visibly rotting and the paint was peeling in many areas. Brian, our carpenter, got to work re-creating the surround in brand new PVC. Now, this exterior is low maintenance AND beautiful!
Beautiful, long-lasting replacement doors
We offer a variety of styles and materials to choose from:
Aluminum doors
Fiberglass doors
Wood doors
Entry & front doors
Patio doors
Sliding doors
French doors
Storm doors
Products
Therma-Tru is one of the nation's top providers of high quality doors that are not only aesthetically pleasing to compliment your home, but durable and energy efficient! Therma-Tru doors will enhance your home's look as well as reduce energy costs by preventing the loss of conditioned air.
Therma-Tru's Fiberglass Entry Doors are designed with energy conservation and captivating beauty in mind, while also providing long lasting durability.
Get the most value and performance with a fiberglass entry door:
- Rich, deep colors and designs to compliment your home.
- Insulated to prevent air leakage and lower your energy bills.
- Alternative option to wood or steel.
Therma-Tru is one of the nation's top providers of high quality doors that are not only aesthetically pleasing to compliment your home, but durable and energy efficient! Therma-Tru doors will enhance your home's look as well as reduce energy costs by preventing the loss of conditioned air.
Therma-Tru's Steel Entry Doors come in three options, all safe, dependable, and highly efficient.
Get the most durability and value:
- Modern, sleek designs with high definition panel embossing.
- Fire-rated doors to offer protection and allow more time in case of a fire.
- Long lasting, high quality material you can rely on.
Founded in 1960, Jeld-Wen has become a worldwide leader in manufacturing and distribution of high quality replacement windows and doors. Jeld-Wen offers complete lines of both wood and vinyl products, providing solutions for every home.
Jeld-Wen Patio Doors
Jeld-Wen is proud of their high quality patio doors, as they are versatile and compliment any home, while being strong and efficient, so you don't have to compromise.
Features Include:
Updates your outdoor living space
Allows a gorgeous natural lighting
Minimal maintenance
Energy Efficient
Beautiful styles and finishes
Entries with a patio door in CT
An exterior door can also be a patio door. Patio doors are typically made of glass panels that slide, swing or fold open, and they are used as an entry point to a patio or backyard space off of the kitchen, living room or bedroom. We offer several styles of patio doors for your home.
There are several benefits to having your door replaced with us
Comfort: A warped, drafty door can make your home uncomfortable and cause your energy bills to rise. A replacement door that's properly installed and sealed will help keep the temperature in your home consistent and reduce the load on your heating and cooling systems.
Functionality: Doors that are sticking, uneven, or difficult to open and close should be replaced. We offer maintenance-free materials that will not require painting and will not warp or rot over time.
Home value: By replacing old doors in your home, you can increase its value when it comes time to sell. Replacement doors make a huge difference in appearance and home security.
Convenience: We make door replacement quick and easy, and it's done at the right cost! We realize home improvement is costly, and we work with you by providing a free estimate so that you know exactly what you're getting.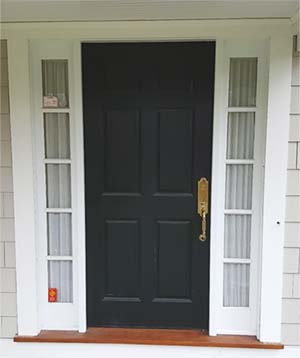 Make a statement. A new front door creates a great first impression for your home.
We handle all the details
Finding the best door for your home is part of the process, but no door looks complete without the right finishing touches. We can install unique knobs and handles to give you a custom look, and we supply a variety of colors for your door. Adding decorative or privacy glass, transom windows, and sidelights are all great options for improving the look of your door and giving you an eye-catching entryway.
We install quality entry doors in custom sizes and finishes. The opening size of your door frame will determine the specific door or glass styles that can be installed. Don't worry about trying to handle a door frame yourself - our expert contractors can help you select the perfect product for your home and provide hassle-free installation.
Schedule your free replacement door cost estimate today in Connecticut!
Our doors are custom ordered to ensure a perfect look and fit every time. Contact Burr Roofing, Siding, & Windows today to learn more about our window and door replacement options and to schedule a free estimate in New Haven, Milford, West Haven, Norwalk, Trumbull, Stamford, Shelton, or nearby.
Looking for a price? Get a no cost, no obligation free estimate.